Sunday – EC Day 2
Sunday – EC Day 2

The titular event of VtES European Championship 2022, EC Day 2, will allow 50 pre-qualified players to compete for the title of champion. Bring your best decks, best strategies, best attitude, and a hint of salt and humility, as only one can be the winner after three rounds of ruthless VtES, and the final round, that will undoubtedly be a nailbiter!
As all tournaments during European Championship 2022, EC Day 1 follows the official tournament rules. A valid Ropecon ticket is required.
The final of this tournament will be streamed. See the bottom of the page for embedded link.
Deck lists will be required in advance for all attendants. Please follow the instructions given here to submit your deck lists. For this tournament specifically, send the text version of your list to the following email with the the topic set as follows:
vtesec2022decklists@gmail.com
Sunday Day 2 [First name Last name]
Registration is done by hand at the judges' desk. Please respect the schedule and register yourself in person as soon as possible. Be on time to avoid excessive queues.
Schedule
| | |
| --- | --- |
| 8:00–8:15 | Registration |
| 8:30–10:30 | First round |
| 11:00–13:00 | Second round |
| 13:00–13:55 | Lunch break |
| 13:55–15:55 | Third round |
| 16:00–18:00 | The final |
Note
Please note that the schedule will be tight. We understand this, but unfortunately we are bound by Ropecon's opening hours, who are in turn bound by their agreement with the venue. To this end, and for everything to go smoothly, we urge everyone to be punctual and respect the schedule to the letter.
If you are not on time, we unfortunately can't guarantee that you will be able to play the round. We thank you in advance for your understanding and punctuality.
In cases of force majeure, please let the EC organizers know, and we will see what we can do.
Lastly, we would like you to bring a healthy mixture of competitiveness, open mind, friendly attitude and a smile (with or without fangs out) to one of the most prestigeous VtES tournaments of the year, and congratulate the due winner of the European Championship in advance!
Finals Stream
Deck Archive
See all decks for this tournament in Dropbox!
Results
The finalists of this 50 player event were:
Otso Saariluoma
Antti Penttilä
Esa-Matti Smolander
Matias Frosterus
Héctor Javier Ordóñez
Otso Saariluoma was the winner, and the European Champion 2022, with the following tournament winning deck:
Crypt (12 cards, min=4 max=35 avg=5.75)
=======================================
1x Enkidu, The Noah   11 for ANI CEL OBF POT PRO      Gangrel antitribu:4
2x Nangila Were       9 obf ser ANI POT PRE          Guruhi:4
1x Black Annis        9 ani pro OBF POT              Nosferatu antitribu:4
3x Nana Buruku        8 ANI POT PRE                  Guruhi:4
1x Andre LeRoux       3 aus                          Toreador:5
4x Anarch Convert     1                              Caitiff:ANY

Library (65 cards)
------------------
Master (25)
-----------
4x Anarch Revolt
1x Archon Investigation
6x Ashur Tablets
1x Dreams of the Sphinx
1x Fame
1x Giant's Blood
1x Information Highway
1x Mbare Market, Harare
1x Pentex(TM) Subversion
1x Powerbase: Luanda
1x Powerbase: Montreal
5x Villein
1x Wider View

Action (5)
----------
3x Deep Song
1x Entrancement
1x Well-Marked

Reaction (6)
------------
1x Cats' Guidance
1x Delaying Tactics
2x On the Qui Vive
2x Sense the Savage Way

Combat (28)
-----------
1x Canine Horde
5x Carrion Crows
1x Glancing Blow
6x Immortal Grapple
3x Roundhouse
1x Slam
1x Stunt Cycle
4x Taste of Vitae
2x Thrown Sewer Lid
4x Torn Signpost

Event (1)
---------
1x Dragonbound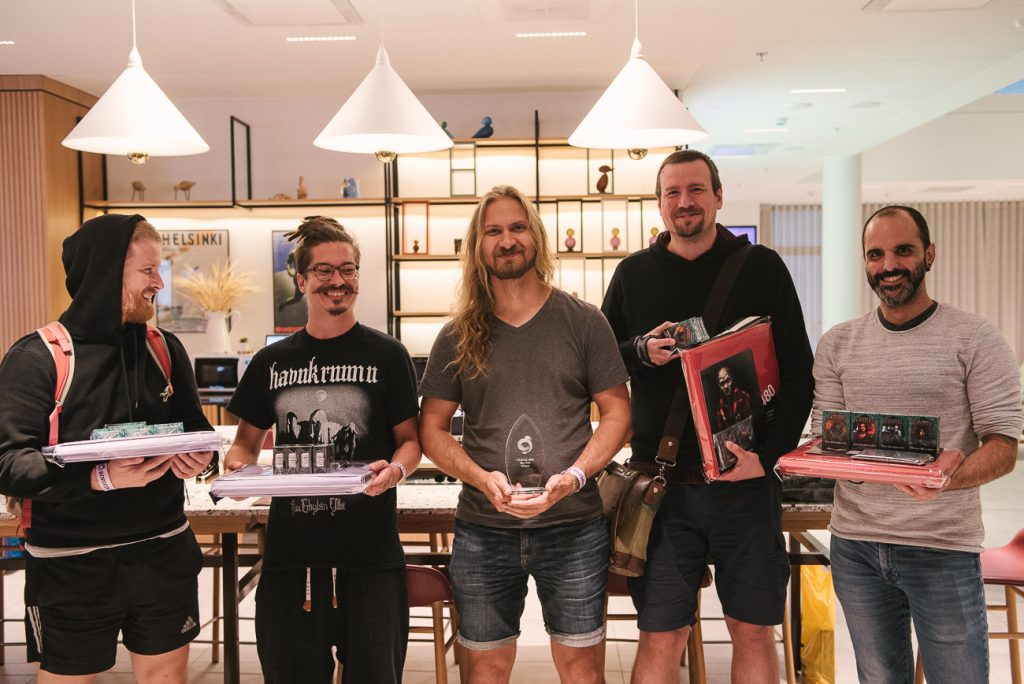 Standings
See the complete archon and full standings on the VEKN tournament site.
Rank    Player name     GW      VP      Final   TP
1	Otso Saariluoma	2	7	0,5	162
2	Antti Penttilä	2	6,5	0,5	156
2	Héctor Javier	1	5,5	0,5	156
2	Esa-Matti Smol.	2	5,5	0,5	132
2	Matias Froster.	1	6	0,5	126
6	Kari Hyll	1	5,5		132
7	Selim Ammouche	1	5		156
8	Bram Van Stapp.	1	5		132
9	Juho Linna	1	4,5		138
10	Emiliano Imero.	1	4,5		114
11	Teemu Sainomaa	1	4		138
12	Randal Rudstam	1	4		120
13	Norm Brown	1	4		108
14	Otto Kallokoski	1	3,5		120
14	Maciej Frankow.	1	3,5		120
16	Karim Baloul	1	3		120
16	Ginés Quiñonero	1	3		120
18	Tero Aalto	1	3		114
19	Tommi Hakomaa	1	3		108
20	Jani Malmi	0	4		120
21	Sebastian Fred.	0	4		114
22	Kalle Blomgren	0	3,5		150
23	David Luhaæær	0	3		138
24	Kim Nilsson	0	3		120
25	Peter Holmquist	0	2,5		114
25	Richard Stefan	0	2,5		114
27	Jyri Puhakka	0	2		120
28	Petr Muller	0	2		102
28	Marko Saari	0	2		102
28	Jonas Ståhle	0	2		102
31	Kamel Senni	0	2		84
32	Andreas Stjern.	0	1,5		102
32	Karri Malm	0	1,5		102
34	Simone Zanni	0	1,5		96
35	Maxime Socroun	0	1,5		90
36	Noora Hirvonen	0	1		102
37	Hannu Kokkonen	0	1		96
38	Marko Lindroos	0	1		90
38	Kristofer Åkes.	0	1		90
40	Juha Nyholm	0	1		84
41	Christian Nisl. 0	0,5		84
42	Helmuth Kaiser.	0	0,5		78
42	Juha Laukkanen	0	0,5		78
44	Jan Erik Soder.	0	0,5		72
45	Tom Lindberg	0	0		72
46	Giulio De Cicco	0	0		66
46	Joona Tuominen	0	0		66
46	Mike Nudd	0	0		66
49	Richard Utner	0	0		60
50	Emma Takkunen	0	0		54