Friday – Last Chance Qualifier
Friday – Last Chance Qualifier

The tournament on Friday is called the Last Chance Qualifier (LCQ). This tournament is not, in fact, your last chance to qualify, but it is a way – the finalists (top 5 players) will all qualify for EC Day 2 on Sunday, where the European champion will be decided.
Moreover, the LCQ on Friday will be a great way to hone your skills and get yourself warmed up for the weekend!
As all tournaments during European Championship 2022, the LCQ also follows the official tournament rules.
The final of this tournament will be streamed. Scroll down this page for an embedded link.
The final results of the tournament are visible at the end of this page.
Deck lists will be required in advance for all attendants. Please follow the instructions given here to submit your deck lists. For this tournament specifically, send the text version of your list to the following email with the the topic set as follows:
vtesec2022decklists@gmail.com
Friday LCQ [First name Last name]
Registration is done by hand at the judges' desk. Please respect the schedule and register yourself in person as soon as possible. Be on time to avoid excessive queues.
Schedule
9:30
Gates open for VtES players.
A ticket bought online is required!
9:40–10:45
Registration
11:00–13:00
First round
13:15–15:15
Second round
15:15–16:30
Lunch break
16:30–18:30
Third round
18:45–20:45
The final
Note
A valid
Ropecon ticket
, bought in advance, is required to enter the tournament. Advance tickets are available for purchase until July 27. This tournament will begin before the actual opening of Ropecon (which is at 15 o'clock). For this reason, special arrangements are required to get the games going in the morning:
As we begin outside of Ropecon's official opening hours, there will be no ticket sales in the morning. An advance ticket will be required for this tournament.
Please be at the main entrance well in time (by 10 o'clock at the latest). There your ticket will be checked and you will be instructed to the tournament venue.
Access to other parts of the convention will be limited until the official opening of Ropecon (15 o'clock). Respect the instructions of the EC staff and the Ropecon security on-site. If you have special needs, please let us know.
Final Stream
Deck Archive
See all decks for this tournament in Dropbox!
Results
The finalists of this 85 player event were:
Otso Saariluoma
Kim Nilsson
Emiliano Imeroni
Richard Stefan Utner
Andreas Stjernfelt
Otso Saariluoma was the winner with the following tournament winning deck:
Crypt (12 cards, min=4 max=27 avg=6)
====================================
3x Enkidu, The Noah   11 for ANI CEL OBF POT PRO     Gangrel antitribu:4
3x Matasuntha         10 ANI AUS CEL FOR PRO         Gangrel:5
1x Andre LeRoux       3 aus                          Toreador:5
1x New Blood          2 san                          Blood Brother:ANY
4x Anarch Convert     1                              Caitiff:ANY

Library (90 cards)
------------------
Master (27)
-----------
9x Ashur Tablets
1x Direct Intervention
2x Dreams of the Sphinx
1x Fame
1x Giant's Blood
1x Guardian Angel
1x Monster
2x Parthenon, The
1x Pentex(TM) Subversion
1x Powerbase: Montreal
5x Villein
1x Wash
1x Wider View

Retainer (9)
------------
1x Mr. Winthrop
8x Raven Spy

Action Modifier (5)
-------------------
1x Enkil Cog
2x Forced March
2x Instantaneous Transformation

Reaction (18)
-------------
3x Cats' Guidance
4x Forced Awakening
4x On the Qui Vive
7x Sense the Savage Way

Combat (30)
-----------
1x Claws of the Dead
8x Diversion
4x Drawing Out the Beast
2x Earth Meld
2x Hell-for-Leather
2x Infernal Pursuit
2x Pack Alpha
2x Psyche!
1x Pursuit
6x Taste of Vitae

Event (1)
---------
1x Dragonbound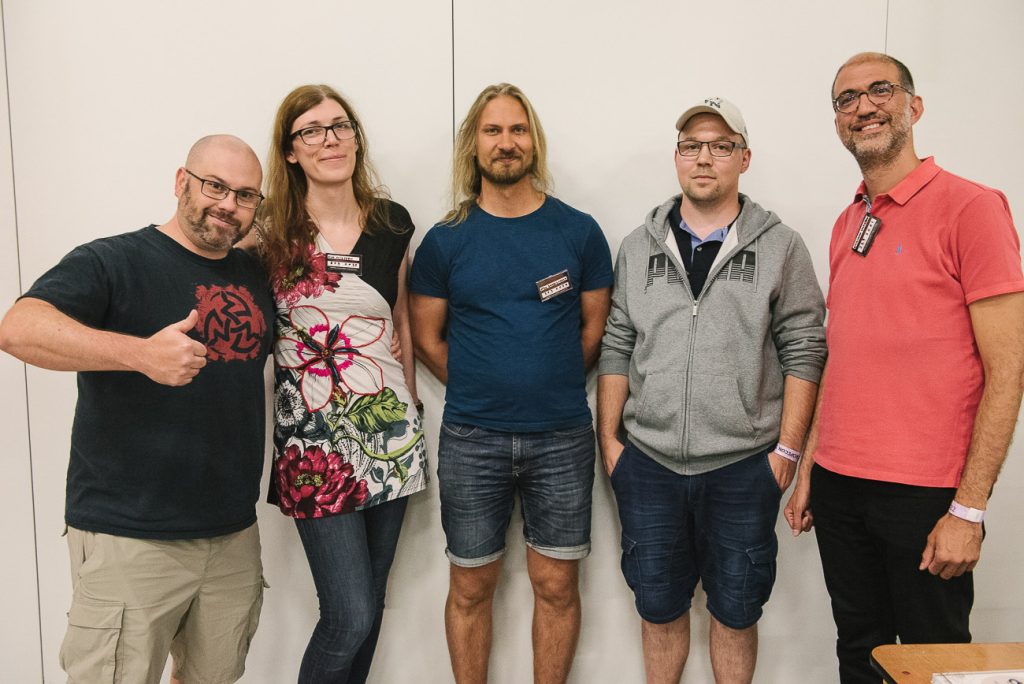 Standings
For the complete Archon, please see the VEKN tournament page.
Rank    Player name     GW      VP      Final   TP
1	Otso Saariluoma	2	7,5	4	174
2	Kim Nilsson	2	8	0	144
2	Emiliano Imero.	2	6	0	156
2	Richard Stefan.	2	8	0	144
2	Andreas Stjern.	2	7	1	156
6	Erik Mossberg	1	7		156
7	Lasse Pöyry	1	6		156
8	Alejandro Rodr.	1	6		150
9	Esa-Matti Smol.	1	5,5		144
9	Edouard Mennes.	1	5,5		144
11	Niko Vanhatalo	1	5,5		138
12	Selim Ammouche	1	5,5		114
13	Tomi Sillanpää	1	5		144
14	Peter Ducai	1	5		138
15	Hector Ordonez	1	5		132
15	David Luhaäär	1	5		132
17	Lasse Gringmut.	1	5		120
18	Jani Malmi	1	4,5		144
19	Pasi Karjalain.	1	4,5		126
19	Petr Muller	1	4,5		126
21	Niina Lindroos	1	4,5		120
22	Maciej Frankow.	1	4		138
23	Galo Hernandez. 1	4		126
24	Seppo Lipponen	1	4		120
24	Juha Laukkanen	1	4		120
26	Kalle Blomgren	1	4		108
27	Akseli Jalava	1	3,5		150
28	Sebastian Fred.	1	3,5		126
29	Vincent Ripoll	1	3		120
29	Peitsa Suominen	1	3		120
31	Kristofer Åkes.	1	3		108
32	Simone Zanni	1	2,5		114
33	Marko Saari	0	4		144
33	Helmuth Kaiser.	0	4		144
35	Matias Froster.	0	3		144
36	Kamel Senni	0	3		138
37	Giulio De Cicco	0	3		120
38	Richard Utner	0	3		114
39	Juho Linna	0	3		108
40	Henrik Stång	0	2,5		132
41	Kari Hyll	0	2,5		126
42	Randal Rudstam	0	2,5		120
43	Jukka Tervonen	0	2		114
44	Jonas Ståhle	0	2		102
45	Tero Aalto	0	2		96
46	Erik Wallgren	0	2		90
46	Julius Kaplas	0	2		90
48	Tuomas Vuokko	0	2		84
49	Anni Rosenius	0	1,5		108
50	Teemu Pulkkinen	0	1,5		102
50	Magnus Söder	0	1,5		102
52	Richard Aumann	0	1,5		90
52	Nicklas Lallo	0	1,5		90
52	Miska Tanskanen	0	1,5		90
55	Henrik Klippst.	0	1		96
55	Paolo Pasqualin	0	1		96
55	Jan Sonnenberg	0	1		96
58	Mike Nudd	0	1		90
59	Tom Lindberg	0	1		84
59	Giulio Roffi	0	1		84
61	Juho Vuorikoski	0	1		78
62	Filippo Mengoli	0	0,5		90
62	Jari Vulli	0	0,5		90
62	Tatu Rajala	0	0,5		90
65	Maxime Socroun	0	0,5		84
65	Magnus Wendel	0	0,5		84
65	Timo Karhunen	0	0,5		84
65	Karim Baloul	0	0,5		84
69	Ginés Quiñonero	0	0,5		78
69	Matthew Boon	0	0,5		78
69	Mathias Olsson	0	0,5		78
72	Joona Tuominen	0	0,5		72
72	Karel Vaigl	0	0,5		72
74	Jan Erik Söder.	0	0		78
75	Luca Lanzarini	0	0		72
75	Peter Holmqvist	0	0		72
75	Dario Coccioni	0	0		72
75	Joel Tikkala	0	0		72
75	Arnold Riegler	0	0		72
75	Axel Arkheden	0	0		72
81	Pauli Tuomiluo.	0	0		66
82	Norman Brown	0	0		60
82	José María Pri.	0	0		60
82	Karri Malm	0	0		60
82	Bram Van Stapp.	0	0		60