Sunday – Best of the Rest
Sunday – Best of the Rest

In case you didn't qualify as one of the 50 players to attend Day 2 of EC, don't worry – everyone is welcome to the Best of the Rest tournament on Sunday to show their most effective, fun or innovative deckbuilding skills. We hope to see all of you there to crown a fantastic week of games!
As all tournaments during European Championship 2022, EC Day 1 follows the official tournament rules. A valid Ropecon ticket is required.
Deck lists will be required in advance for all attendants. Please follow the instructions given here to submit your deck lists. For this tournament specifically, send the text version of your list to the following email with the the topic set as follows:
vtesec2022decklists@gmail.com
Sunday BOTR [First name Last name]
Registration is done by hand at the judges' desk. Please respect the schedule and register yourself in person as soon as possible. Be on time to avoid excessive queues.
Schedule
| | |
| --- | --- |
| 8:00–8:15 | Registration |
| 8:30–10:30 | First round |
| 10:45–12:45 | Second round |
| 12:45–13:45 | Lunch break |
| 13:45–15:45 | Third round |
| 16:00–18:00 | The final |
Note
We understand that the schedule is tight, but unfortunately we are bound by Ropecon's opening hours, who are in turn bound be their agreement with the venue. To this end, and for everything to go smoothly, we urge everyone to be punctual and respect the schedule to the letter.
If you are not on time, we unfortunately can't guarantee that you will be able to play the round. We thank you in advance for your understanding and punctuality.
In cases of force majeure, please let the EC organizers know, and we will see what we can do.
Deck Archive
See all decks for this tournament in Dropbox!
Results
These are the finalists of this 41 player event.
Filippo Mengoli
Erik Wallgren
Niko Vanhatalo
Zsolt Cziráki
Lasse Pöyry
Zsolt Cziráki is the winner with the following tournament winning deck:
Crypt (12 cards; Capacity min=5 max=7 avg=6.)
==================
4x Alabastrom                    7 aus cel for POT VIS      Gargoyle:6
4x Handsome Dan                  5 aus cel for pot vis      Gargoyle:6
4x Leumeah                       6 cel for pot PRE          Brujah:6

Library: 90 cards

Master (16 cards)
==================
1x Fame
1x Flames of Insurrection
1x Anarch Railroad
1x Garibaldi-Meucci Museum
1x Giant's Blood
1x Rack, The
1x Smiling Jack, The Anarch
5x Vessel
1x Carfax Abbey
1x Club Illusion
2x Dreams of the Sphinx

Action (10 cards)
==================
1x Fee Stake: Boston
1x Fee Stake: Los Angeles
1x Heroic Might
2x Armor of Terra
1x Open War
2x Preternatural Strength
2x Line Brawl

Action Modifier (8 cards)
==================
2x Forced March
2x Monkey Wrench
2x As the Crow
2x Skin of the Chameleon

Combat (23 cards)
==================
2x Lam Into
3x Raking Talons
2x Roll
3x Taste of Vitae
2x Bond with the Mountain
8x Diversion
3x Dust Up

Retainer (1 cards)
==================
1x Razor Bat

Equipment (2 cards)
==================
1x Heart of Nizchetus
1x Sniper Rifle

Reaction (30 cards)
==================
6x Guardian Vigil
4x On the Qui Vive
8x Bait and Switch
10x Organized Resistance
2x Delaying Tactics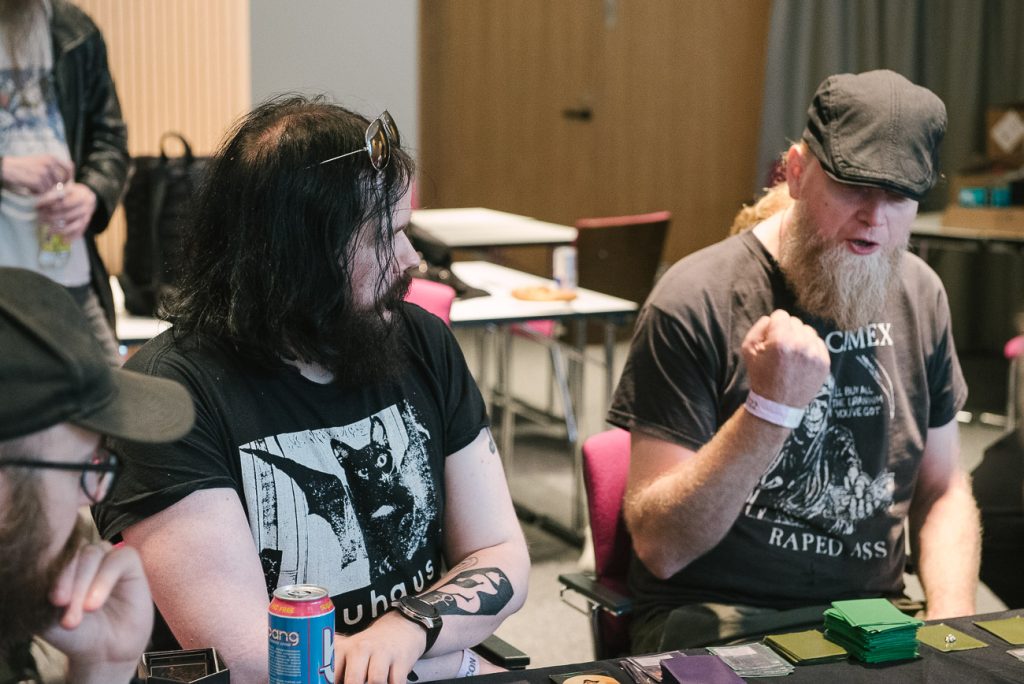 Final Standings
For the complete Archon, see the VEKN tournament report.
1	Zsolt Cziráki	1	6	2	168
2	Lasse Pöyry	1	6	2	150
2	Erik Wallgren	2	8	0	138
2	Filippo Mengoli	3	9,5	1	180
2	Niko Vanhatalo	2	8	0	138
6	Peter Ducai	1	5,5		144
7	Richard Aumann	1	5		150
8	Giulio Roffi	1	5		132
9	Nicklas Lallo	1	4,5		132
10	Erik Mossberg	1	4,5		114
11	Edouard Mennes.	1	4		132
11	Lasse Gringmuth	1	4		132
13	Alejandro Rodr.	1	4		126
14	Julius Kaplas	1	4		120
15	Anni Rosenius	1	3,5		136
16	Seppo Lipponen	1	3		126
17	Peitsa Suominen	1	3		102
17	Henrik Klippst.	1	3		102
19	Ari-Pekka Ales.	0	3,5		130
20	Dario Coccioni	0	3		126
21	Arnold Riegler	0	3		114
22	Luca Lanzarini	0	2,5		126
23	Matthew Boon	0	2,5		108
24	Galo Hernandez. 0	2		100
25	Jan Sonnenberg	0	1,5		106
26	Miska Tanskanen	0	1		94
27	Magnus Söder	0	1		88
27	Karel Vaigl	0	1		88
29	Henrik Stång	0	1		84
30	Axel Arkheden	0	1		78
31	Aki Puolakka	0	0,5		78
31	Petri Wessman	0	0,5		78
33	Mikko Moisander	0	0		80
34	Péter Talmácsi	0	0		76
34	Magnus Wendel	0	0		76
36	Pasi Karjalain.	0	0		70
37	Paolo Pasqualin	0	0		66
37	Johan Wahlström	0	0		66
39	Joel Tikkala	0	0		60
39	José María Pri.	0	0		60
41	Niina Lindroos	0	0		54