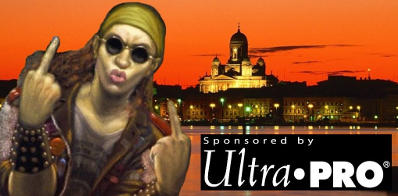 Ropecon VTES Grand Prix, July 28th 2018
This year's big, traditional Ropecon V:TES tournament is slightly different from previous years. First off all, it's on Saturday, instead of taking up Friday night. Secondly, it is part of this year's Gran Prix tournament circuit.
What does this mean in practice? It means that the players don't need to stay up way past midnight in order to play. We'll actually have a lunch break (gasp!). It also means some extra prizes , Grand Prix ranking points, and other small stuff. Overall, though, it's still the same tournament: a chance to see a large chunk of the Finnish VTES player community, and play against a lot of interesting decks. For various values of "interesting".
Core information
Location:
Messukeskus Convention Center in Pasila, Helsinki (exact address: Messuaukio 1, 00520 Helsinki).
Date+time:
Saturday July 28th 2018, starting at 11:00. Registration opens sometime around 9:00 on site and closes at 10:30, pre-registration is also possible (see below). Please be on site on time!
Entry fee:
None, but requires Ropecon entry (42€ for the weeked but 38€ if pre-purchased. Day tickets are also available and go for 30 euros for Friday & Saturday and 20 for Sunday.)
Rules:
Normal preconstructed rules, 3 2-hour preliminary rounds + final. Please note that while the PDF-only expansions are legal (as is the new Lost Kindred expansion), other proxies are not legal.
Organizers:
Petri Wessman (orava@iki.fi) - organizer & head judge
Janne Lönnqvist - organizer & Finnish NC
More info:
Please see the Facebook Event of the tournament for more information. Last-minute info may appear there (and possibly nowhere else).
Other stuff
Please be on site on time (and take into account that there may some queuing involved with Ropecon entry tickets). Also, please be on time for the separate game rounds -- if someone just vanishes we'll delay table start for a small while, but if a player is missing for longer the table will start without.
We have live streaming of the final round, with commentary, thanks to the awesome folks at Starbacon!
Deck lists are not required, but we will ask finalists to provide them (can be sent later). If you happen to have a deck list available in online form (or on an USB stick etc), we can use that during the finals to provide the audience with more info.
Have fun! The tournament has traditionally been a fairly relaxed affair.
Pre-registration
It's possible to pre-register for the tournament. If you are pre-registered, you do not need to register on site by 10:30, you just need to be on site by 11:00 latest. There will be a checklist of pre-registered players at the registration desk, we ask people to mark the checkbox next to their name when they arrive.
You can pre-register two different ways:
Marking yourself as "Going" in the Facebook Event (see above for link). Everyone marked "Going" is considered to be pre-registered. If you do not want that, please mark yourself as "Interested". Please note that there will be delay between the FB event list and the updating of the master list below (it needs to be done manually).
Sending email to orava@iki.fi, or by otherwise contacting Petri Wessman and saying you want to pre-register.
Important note #1: you are considered to be officially pre-registered when your name appears on the list below, not before.
Important note #2: pre-registration closes on midnight, July 27th (i.e. end of previous day). After that, you need to be on site by 10:30 latest in order to take part in tournament.
Pre-registration is now CLOSED. Everyone not on the list below needs to register on site by 10:30 latest.
Current pre-registered players
Last updated: 21:45 27.7.2018
Tero Aalto (VEKN #8460002)
Kalle Blomgren (VEKN #3260012)
Giulio De Cicco (VEKN #9970003)
Orian Gissler (VEKN #8350023)
Alain Greiner (VEKN #3200289)
Noora Hirvonen (VEKN #3530105)
Petro Hirvonen (VEKN #9350024)
Katja Jauhiainen (VEKN #3070170)
Miika Karmitsa (VEKN #1000638)
Henrik Klippström (VEKN #1002480)
Juha Laukkanen (VEKN #8460001)
Tom Lindberg (VEKN #1003838)
Marko Lindroos (VEKN #1003829)
Niina Lindroos (VEKN #4970006)
Juho Linna (VEKN #3070008)
Janne Lönnqvist (VEKN #3070036)
Peetu Makkonen (VEKN #9350000)
Karri Malm (VEKN #3070164)
Jani Malmi (VEKN #9350012)
Mikko Moisander (VEKN #3070039)
Petr Muller (VEKN #1003030)
Kim Nilsson (VEKN #8090035)
Mika Nurmikolu (VEKN #3070015)
Juha Nyholm (VEKN #3870024(
Mathias Olsson (VEKN #1002187)
Héctor Javier Ordóñez (VEKN #4960048)
Matti Palomäki (VEKN #3070090)
Antti Penttilä (VEKN #3070129)
Lasse Pöyry (VEKN #1001600)
Jyri Puhakka (VEKN #3530097)
Teemu Pulkkinen (VEKN #4970005)
Aki Puolakka (VEKN #9350010)
Ginés Quiñonero Santiago (VEKN #3190007)
Vincent Ripoll (VEKN #3200188)
Marko Saari (VEKN #3070006)
Otso Saariluoma (VEKN #3530054)
Teemu Sainomaa (VEKN #3070069)
Magnus Söder (VEKN #3260015)
Jonas Ståhle (VEKN #8090005)
Emma Takkunen (VEKN #9350032)
Jonathan Van der Smissen (VEKN #1820008)
Tuomas Vuokko (VEKN #3070053)
Martin Weinmayer (VEKN #3340035)